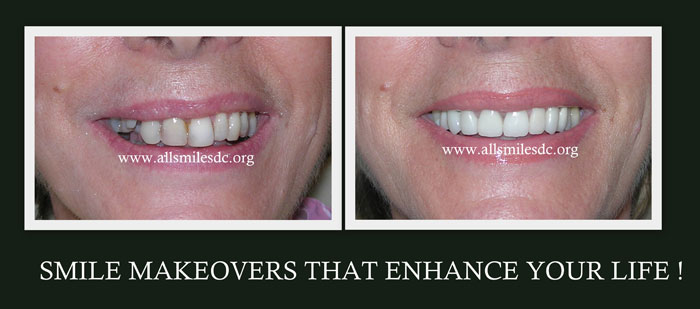 Admit it. It takes months to plan a wedding. The venue, theme, trousseau, jewellery, invites, makeup, hair and whatnot; the list is endless. But if you have consciously or otherwise excluded your teeth and dental health out of your list, it might well be your first beauty crisis.
Well, here is the good news! You only need to make time for 2 visits in 7 days at Dr TRIVIKRAM'S ALL SMILES.
Your smile is the only way you can express your happiness to the outside without having to tell a word. And with all those guests coming to wish and bless you, you certainly have to have the perfect one on your D-day. If you have a dentist-phobia, Dr Trivikram's All smiles will certainly help you in this regard with its extraordinary Dental Care treatments which are absolutely pain-free!
UK-trained cosmetic dentists Dr. Trivikram and Dr. Sruti have been able to deliver high-level results and hygiene standards, with over 6500 dental cases. Dr Trivikram's All smiles is now one of the leaders in dental implants and cosmetic dentistry in the city. They are renowned for their expertise in Wedding Smile Makeovers for anyone with crooked teeth, dark teeth, and protruding teeth, teeth with gaps, overlapping teeth, fractured teeth, old ugly crowns and bad fillings.You can achieve your most beautiful smile ever in just 7 days! This place is beyond expectations where you can get a smile that will boost your persona to face the wedding photo-shoot with confidence. Let your smile shine this wedding season. After all, the most precious jewellery you can possibly wear on your wedding is your smile!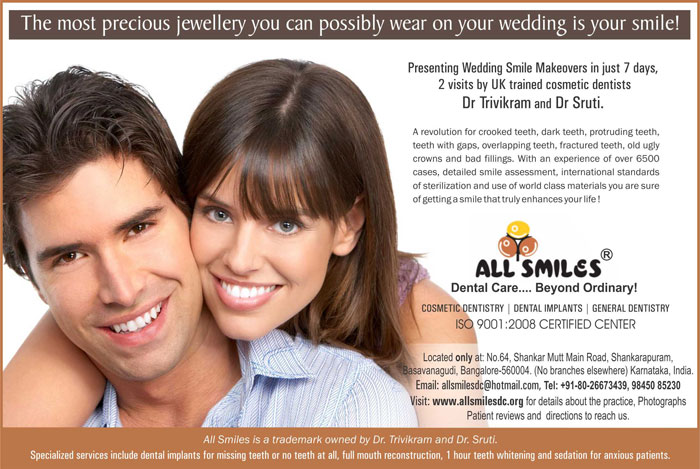 Treatment Options :
Call – 98450 85230 or 080-26673439 for appointments.
Testimonial:
Dear Dr.Trivikram,
I just wanted to express my sincere thanks and appreciation for a job well done. You literally changed my life with the excellent work you did over a week's time, Not only did you fix my teeth so that they look better than they ever did, but you gave a special attention my queries. I cannot thank you enough for my recent experience at your facility. You took exceptional care of me in consideration of my huge dental phobia. I feel like family at your office .I had no pain and more importantly, I had peace of mind. My best regards with a beautiful smile because of you.
Vijaya.
Authored By Dr.K.N Trivikram Rao - Dentist, Bangalore
0