If you have been wanting to improve your smile, then cosmetic dentistry brings to you the quickest way to do so. Porcelain veneers can help you fix problems like gaps, crowing or other misalignment issues in no time at all.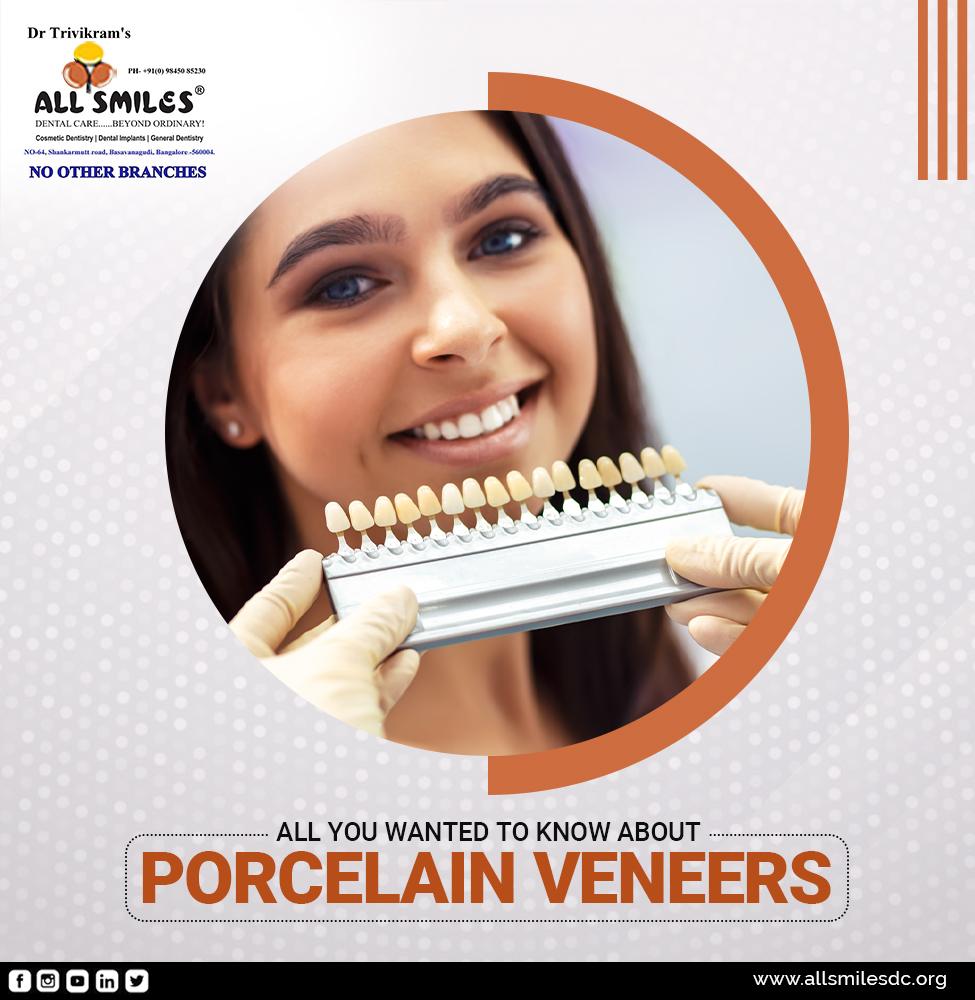 What are Porcelain Veneers?
Porcelain veneers are made of thin porcelain pieces, which are bonded permanently to the front of your teeth by your dentist. The procedure is non-invasive and very quick. And if you have been troubled by stained teeth or chipped teeth or cracked teeth, or you just wish to smile better, porcelain veneers can be the answer to your prayers.
Some people require porcelain veneers for a single tooth while some require them to get four to eight teeth in order, in order to have a symmetrical set of teeth. The most commonly applied veneers are the front eight teeth.
Preparing for Your Appointment
During a preliminary appointment with your dentist, your requirements and the available options will be discussed with you. In some cases, before placing the porcelain veneers, braces are required for a few weeks/months. Your dentist would trim a small part of your tooth before taking an impression of the tooth. The mould will be sent to the lab and customised porcelain veneers will be crafted for you.
Putting porcelain veneers on Your Teeth
An appointment will be booked when your veneers are ready, and your dentist would check the shape, fit and colour to ensure that they match your the teeth perfectly. Your teeth will be cleaned, after which using a grinding tool a rough surface would be created on the tooth . Using dental cement the veneer would be attached to the tooth. Ultraviolet light would be used to harden the cement and in no time you would be ready with a brand new smile.
Looking After Your Veneers
Taking care of your porcelain veneers is very important if you wish that they should last you long. Just like you need to keep your natural teeth clean and well-maintained, you must ensure that that you take the required steps to keep them white and bright. With proper care, your porcelain veneers will continue to look as good as new for years to come.
The radiant smile that you have been craving for, isn't a far fetched dream any more. Porcelain veneers will not just put right all the dental imperfections, but also help in boosting your confidence!

Reviewd By : Dr K N Trivikram Rao
Mail us @ allsmilesdc123@gmail.com
Book your appointment here: allsmilesdc.org/book-appointment