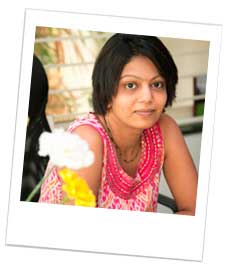 Dr K Sruti. B.D.S
D.ORTHO, ACCREDITATION IN LINGUAL BRACES (South Korea).
Orthodontist and Dentofacial Orthopedist. Specialist in Lingual Braces.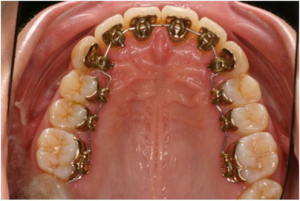 Lingual (hidden)/Invisible braces provide a new and practically invisible way to change your smile. So no one will ever know you are wearing braces- unless you tell them. The word lingual refers to the tooth surface next to your tongue, and that's where hidden braces are placed. We use lingual braces that are 100% customized to the shape of your teeth and to your individual orthodontic treatment.
When you wear lingual braces, you can smile with confidence
Advantages
TOTALLY INVISIBLE! Placed behind your teeth, these braces are completely invisible so you can confidently smile through every event that life has to other-from special occasions to everyday joy.
INTELLIGENT! Lingual braces are customized with intelligent wires and brackets engineered to deliver the targeted results your smile deserves. No matter where your teeth start, they'll end up beautifully straight
INDIVIDUALIZED! Each brackets is 100 % customized for you, giving you optimal comfort.
Self-ligating braces/ the smart braces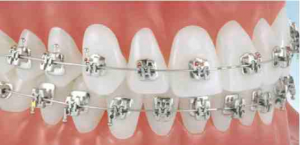 Self-ligation is an advanced form of technology that can reduce the time you need to wear braces. It uses a high-tech wire system that is more comfortable than traditional braces and usually requires fewer adjustments reducing the number of visits and time.
The self-ligating braces technology eliminates the need for rubber bands. Instead, an innovative clip system does the trick. That's a big change for the better when it comes to your smile.
Advantages
Self ligating braces move teeth more quickly reducing the total treatment time.
Smooth, contoured surfaces offer a more comfortable fit.
Self-ligating design keeps the number of appointments to a minimum.
Without rubber bands, braces are easier to keep clean.
Standard braces use rubber bands to hold the wire onto your braces. Advancement in technology now brings self-ligating braces onto the scene.
Instead of rubber bands, self-ligating braces use a unique clip or movable door to hold the wire in place.
With self-ligating braces, your teeth can stay cleaner and you can spend less time in your orthodontist's chair.
Ceramic Clear braces/Tooth coloured braces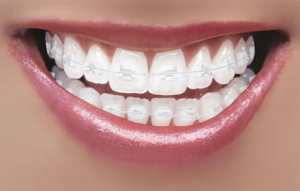 Clear braces are great option for adult treatment' as the brackets are made from clear material. They are less conspicuous compared to metal counterparts.
Clear braces are a popular choice for teens who want to make a lasting impression and adults who want to make a less noticeable statement during treatment
Advantages
Ceramic braces works like metal braces. Only better, because they blend in with your teeth for a great look. They are a perfect combination of strength and beauty.
Translucent, designed to blend in with your teeth.
Small and smooth for your comfort.
Smile all you want, there's no staining.
Metal braces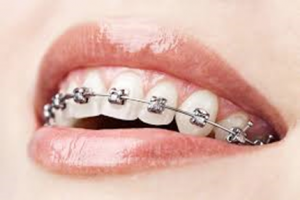 Metal braces are made from high-grade stainless steel and are the most common type of braces in use.They use elastic ties to hold the wire into the bracket. Many adults still have painful memories of the big clunky braces from the past. Luckily, times have changed, and so have metal braces. Modern braces are smaller and more comfortable than ever before with low profiles and strong adhesives.
The new age standard metal braces work like traditional full size braces –without the bulk and discomfort. Smaller braces enhance comfort and forces. High bond strength provides maximum contact and comfort. Smooth finish is easier on the lips and gums. Metal braces with colored bands have become a popular new way to decorate teeth.
Clear Aligners/Invisible removable braces/Clear Path/Invisalign
These are clear removable tooth-aligners that gradually move your teeth .However not all problems can be corrected with this type of treatment. It is imperative that the patient undergoes thorough examination by the orthodontist for this treatment to be advised.
| Product features | Invisible braces( lingual brackets) | Advanced ceramic brackets | Advanced self-ligating brackets | Metal brackets |
| --- | --- | --- | --- | --- |
| Designed for patient comfort | Yes | Yes | Yes | Yes |
| aesthetics | Excellent | Very Good | Very Good | acceptable |
| Potential for fewer appointments | +++ | ++ | +++ | no |
| Potential; for faster treatment | +++ | ++ | +++ | -no |
| Treatment comfort | Very good | Very good | Very good | Good |
| Designed for better hygiene | Very good | Very good | Very good | Good |
Authored By Dr.K.N Trivikram Rao - Dentist, Bangalore
0
1
0