Introducing Instant Smile Makeovers with Composite veneers/Composite Bonding
---
Dr. K. N. Trivikram Rao ( Dr Vikram ).
B.D.S , Fellow, I . C . O . I ( U. K ).P.G.C.A(MANIPAL).
Cosmetic dentist and Implantologist.
SPECIAL INTERESTS :
Cosmetic dentistry, Dental Implants, Root Canals and Crowns and Bridges.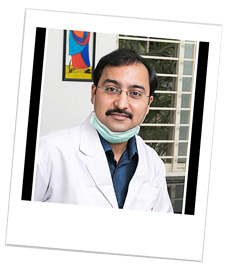 What is Composite Bonding ?
It involves cosmetic makeover of teeth generally done in 1 visit with Composite veneers.
Who is a candidate? – People with
Fractured /broken teeth
Mild discoloration of teeth.
Mild fluorosis.
Small gaps between teeth.
Cavities spreading between the front teeth.
Front teeth with wear and tear
Teeth damaged with erosion.
How is it done?
The teeth are built up with a material called Composite Resins. Composite resins are mouldable and come in various shades to match the tooth colour.The latest advancement in composite resins is Nano Composites which are stronger and more resistant to stains compared to the old ones. To create composite veneers, composite material is applied to the front surfaces of the teeth and sculpted to the desired shape and finished under the hands of an experienced cosmetic dentist. It is possible to make the composite veneers look very natural. Please see the photographs of case done.
Who can provide composite veneers?
To create natural looking composite veneers, dentist must have an artistic flair and the technical skills required to carry out this type of treatment. A cosmetic dentist experienced in composite veneers will have a clear understanding of the properties of dental materials and experience in hand-crafting and replicating the shape, texture and characteristics of teeth. Every individual is unique and has a different tooth shape, smile line and symmetry. An experienced cosmetic dentist will take all these factors into account when creating composite veneers.
How long do composite veneers last?
This depends on the following factors; the type of composite material used (there is a big difference in the quality of different composite materials), the aftercare and habits of the patients.
Authored By Dr.K.N Trivikram Rao - Dentist, Bangalore