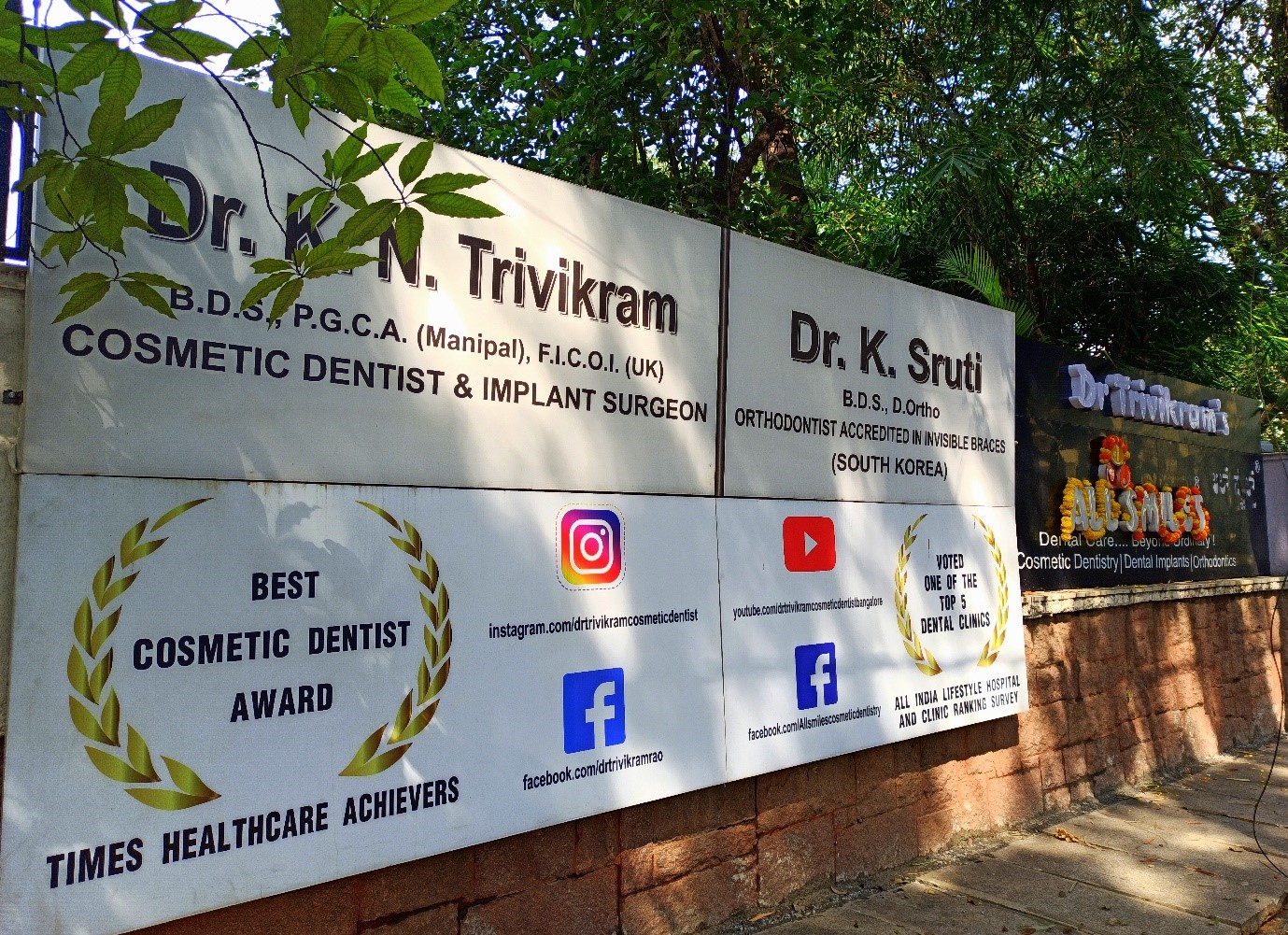 Namaste. Thank you for your inquiry at Dr. Trivikram's and Dr. Sruti's All Smiles Dental. In the wake of the COVID pandemic, we are strictly not accepting any walk-in patients. If it's an emergency please visit your nearest medical hospital. If it is a general inquiry please note we will not be able to answer any cost related queries or treatment-related queries directly on the phone.
For the last 19 years, we have been providing state of the art dental care to patients seeking quality and safety.
Please find the standard protocol for all patients.
Please call 9845085230/ 080 2667 3439 during working hours to schedule a consultation. If you are not able to reach us on phone for some reason, please leave a TEXT (SMS) message to 9845085230 requesting the appointment along with your name.
Your first appointment is for a clinical examination and X- ray scan. The treatment options and cost estimates will be given after your consultation either immediately or within a day. Subsequently appointment slots will be given for the treatment procedures.
Please go through this link for the protocols related to Covid pandemic https://www.allsmilesdc.org/instructions-to-the-patient-visiting-all-smiles-dental
In- clinic Consultation fee- is Rs 800.
VIDEO CONSULTATION- Who qualifies for video consultation?
patients inquiring about treatment options and cost from out of Bangalore can opt for video/phone consultation
Patients who are seeking temporary relief (not planning immediate treatment) are also suitable for video consultation.
The fee for Video consultation is Rs 500 which has to be pre-paid online.
After the payment confirmation, a slot will be given for your video consultation based on the availability of doctor.
Here, we can give you tentative treatment options and rough cost estimates based on the information we can gather on video/photos.
If you want a video consultation call or just leave a TEXT (SMS) message on 9845085230 requesting a video consultation. We will help you with the process.
IMPORTANT POINT
Please don't compare our costs with other practices or doctors.
If you are looking for safety and quality, choose us.