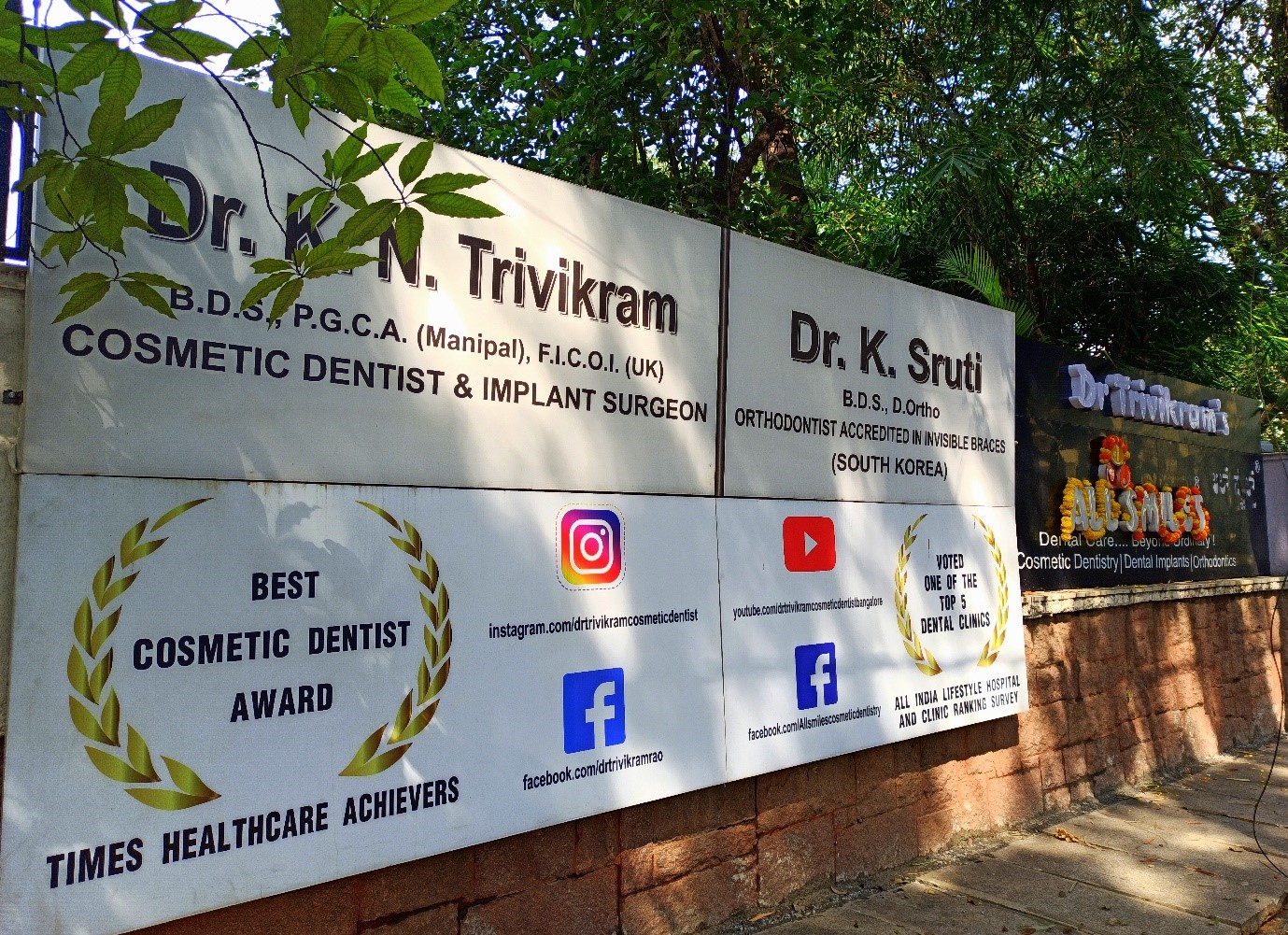 Namaste. Thank you for your inquiry at Dr. Trivikram's and Dr. Sruti's All Smiles Dental. In the wake of the COVID pandemic, we are strictly not accepting any walk-in patients. If it's an emergency please visit your nearest medical hospital. If it is a general inquiry please note we will not be able to answer any cost related queries or treatment-related queries directly on the phone.
We completely empathize with your concerns. But please understand that these restrictions are required for your own safety in the COVID Pandemic situation. For the last 19 years, we have been providing state of the art dental care to patients seeking quality and safety.
Please find the standard protocol for all patients.
All new/old patients have to go through 9845085230 to schedule a consultation. If you are not able to reach us on phone for some reason, please leave a TEXT (SMS) message requesting the appointment along with your name.
Patients requiring personal consultation, you will be sent the link for protocols set by authorities for your perusal. Read it thoroughly to understand them before you confirm your appointment. We reserve the right to reject personal appointments based on our discretion.
After you give consent, the personal appointment time will be confirmed based on the availability of doctors. We are working with restricted timings. Hence excuse any delays in confirming the appointment.
There are 3 components for the fee for your first-time personal consultation. All these payments have to be made full in advance** by online banking/UPI.
Doctor's consultation fee is Rs 500.
Full-mouth Digital OpG scan Rs 800. It gives radiological information about your full set of teeth and jaws. It is a requirement for all cases.
PPE (personal protective equipment) fee is Rs 500. Total cost is Rs 1800
We are trying to do our best to serve you with heightened protocols for your safety during this pandemic.
**Why are we asking for a full advance payment?
Our working hours are restricted. Hence our time becomes valuable to our patients. We cannot afford to have cancelled or delayed appointments as it burdens our overhead costs.
Dental material dealers and PPE dealers are not offering credit anymore on our orders. We have to make full advance payments to them for procurement.
By making an advance payment, you are booking your confirmed slot and helping us pre-plan the requirements specific to your treatment.
After the first consultation, you will be given a detailed treatment plan on a video or voice call mostly within a day. The cost estimate will be forwarded digitally so that you can fix a slot for your future treatment appointment.
ALTERNATIVE OPTION - VIDEO CONSULTATION
Patients who are seeking temporary relief (not planning immediate treatment)
Patients planning the treatment at a later date or
Patients inquiring about treatment options from out of Bangalore can opt for video/phone consultation.
The cost is Rs 500 which has to be pre-paid online. Here, we can give you tentative treatment options and rough cost estimates based on the information we can gather on video/photos. If you want a video consultation just leave a TEXT (SMS) message on 9845085230 requesting a video consultation. We will help you with the process.
IMPORTANT POINT
Please don't compare our costs with other doctors who are using sub-standard/ fake PPE or no PPE at all which is a high risk for the Patients.
If you are looking for safety and quality, choose us.
We follow the highest safety precautions that are set by the DCI for the safety of our patients. Hope you understand and co-operate.