DR.TRIVIKRAM'S ALL SMILES DENTAL - COSMETIC DENTISTRY
Address: #64, Shankarmutt Road
Opp. Masti Ranga Mandira
Shankarpuram, Basavanagudi
Nearest Metro - National College Metro Station(400m)
Bangalore – 560 004.
(No Other Branches)
E-mail: allsmilesdc@hotmail.com
Website: www.allsmilesdc.org
Timings:
Monday - Friday
9:30 am to 1:30 pm
4:00 pm to 8:00 pm
Saturday 9.30 am- 7.30pm
Sunday Holiday
*** Please make all calls during the working hours

For people coming from far away locations in Bangalore
Dr Trivikram's All smiles is located in Basavanagudi close to Jayanagar which is a centralized place and easily accessible from various locations of Bangalore city. At present we do not have any other office in the city.
HOW Dr TRIVIKRAM'S ALL SMILES HAS AN EDGE OVER OTHER CLINICS?
We are able to give the best of the care to our clients because we have the required infrastructure and experienced specialists all in one location. Most of the big dental procedures like SMILE DESIGNING, IMPLANTS, And COSMETIC CORRECTION are ONCE A LIFETIME treatment procedures which can not be left to chance. Such procedures require extreme expertise and state of the art infrastructure which is available at Dr TRIVIKRAM'S ALL SMILES. Having specialists who have successfully treated thousands of cases since the year 2002 surely has an edge over other clinics.
We have successfully treated a lot of patients who have undergone unsuccessful treatments and were unsatisfactory with the results of other dentists. Our office is dedicated to providing the finest possible dental care. The fact that at least 50% of our clientele is from areas like WHITEFIELD, INDIRANAGAR, KORAMANGALA, HEBBAL, BANNERGHATTA ROAD AND MARATHAHALLI is the proof of our credibility.
We thank your decision to choose us for your dental needs and we take all the steps to minimize the number of visits for people coming from far away locations.
The root canal treatments are performed in one-two visit by using the latest methods.
Cosmetic dental treatments require only 3-4 visits.
In all cases of SMILE DESIGNING, we provide chair side temporary crowns to avoid a 2nd visit.
Teeth whitening is done in 1 hour.
Composite bonding is done in 1 hour
We promise you to give you a result that will be worth your effort, as you deserve the BEST that dentistry can offer, which we provide.
TESTIMONIAL
Shylaja
I live in Marathahalli. I had got 6 crowns done for my front teeth at a local clinic close to my place.. The crowns did not match the color and were very bulky and I had to hide my teeth while smiling. It shattered my self-confidence. After 6 months of agony, when a friend referred me to Dr TRIVIKRAM'S ALL SMILES, I visited Dr Vikram, who removed the old crowns and rebuilt the damaged teeth inside and fabricated a new set of crowns which are really natural looking and merge with my other teeth. It took only 4 visits and was totally painless. I have got my confidence back after this and I don't have to hide my smile. I could have saved a lot of time and money if I had come to Dr TRIVIKRAM'S ALL SMILES in the first place itself! Thank you Dr TRIVIKRAM'S ALL SMILES and Dr Vikram.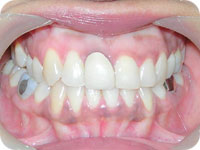 Crown by other dentists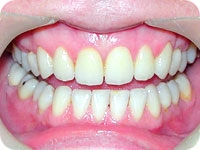 Crown by dr vikram

Dr TRIVIKRAM'S ALL SMILES LOCATION ADVANTAGES (WE DO NOT HAVE ANY OTHER BRANCHES IN BANGALORE )
Dr TRIVIKRAM'S ALL SMILES is located on Shankar mutt road, Basavanagudi, South Bangalore, which is centrally located in a serene neighbourhood. It is in close proximity to many good restaurants and hotels, ATMs all located within a distance of 3-5 KM from the clinic. Ample parking is available on Shankar mutt road for 2 wheelers and 4 wheelers. Our office is
5 KM from M.G road and Brigade road.
3.5 KM from city central railway station and bus station.
3 KM from U.B CITY (VITTAL MALLYA ROAD ) the latest hotspot in the city.
5 -6 KM from KORAMANGALA, J.P NAGAR AND H.A.L (OLD) AIRPORT ROAD and 8 KMS from INDRA NAGAR and surrounding areas.
3 -4 KM from JAYANAGAR.
1.5 KM from Lalbagh Westgate.
1 KM from Ramakrishna ashram circle
5-6 KM from HAL Airport
Map
We are just a metro train away from most of the areas in Bangalore. Our closest station is National College metro station which is just 300 meters by walk. Now just hop on to Namma Metro to reach us faster. All the areas in the map take just about 10-25 minutes to reach us now.