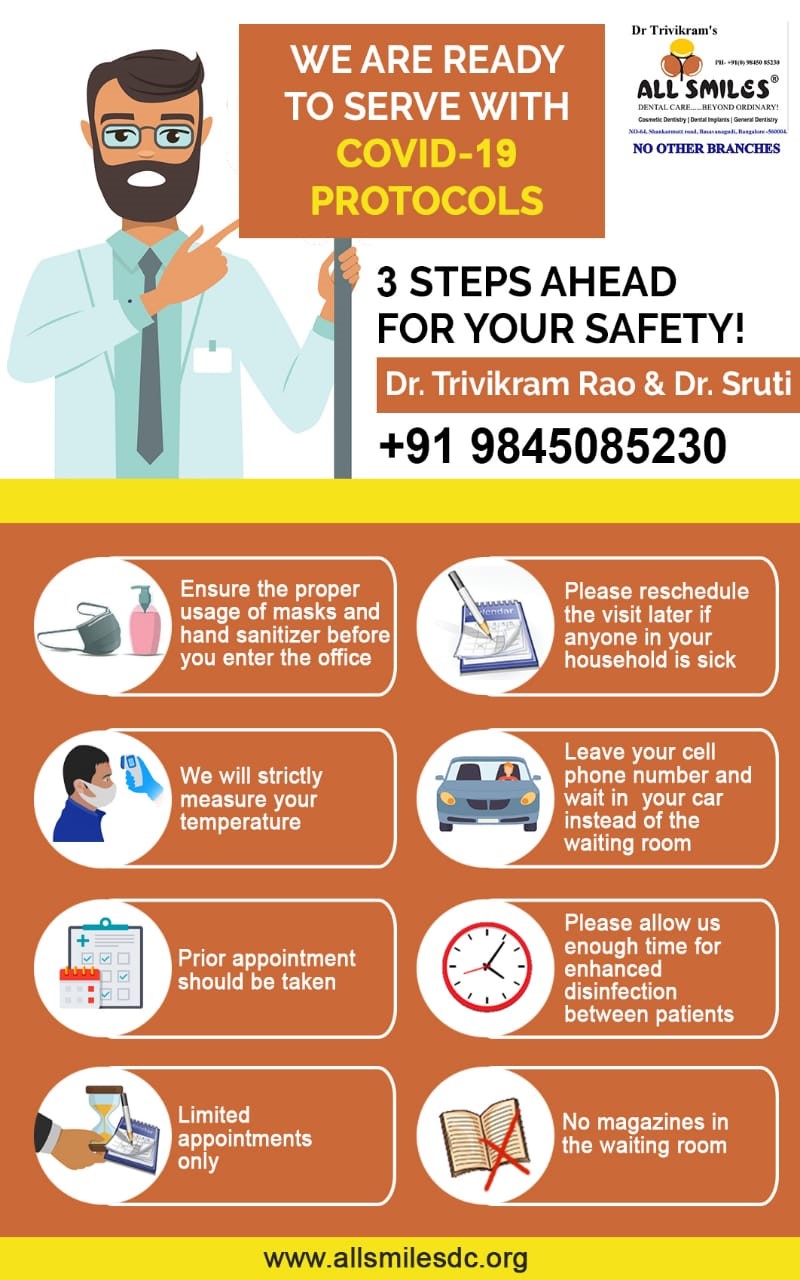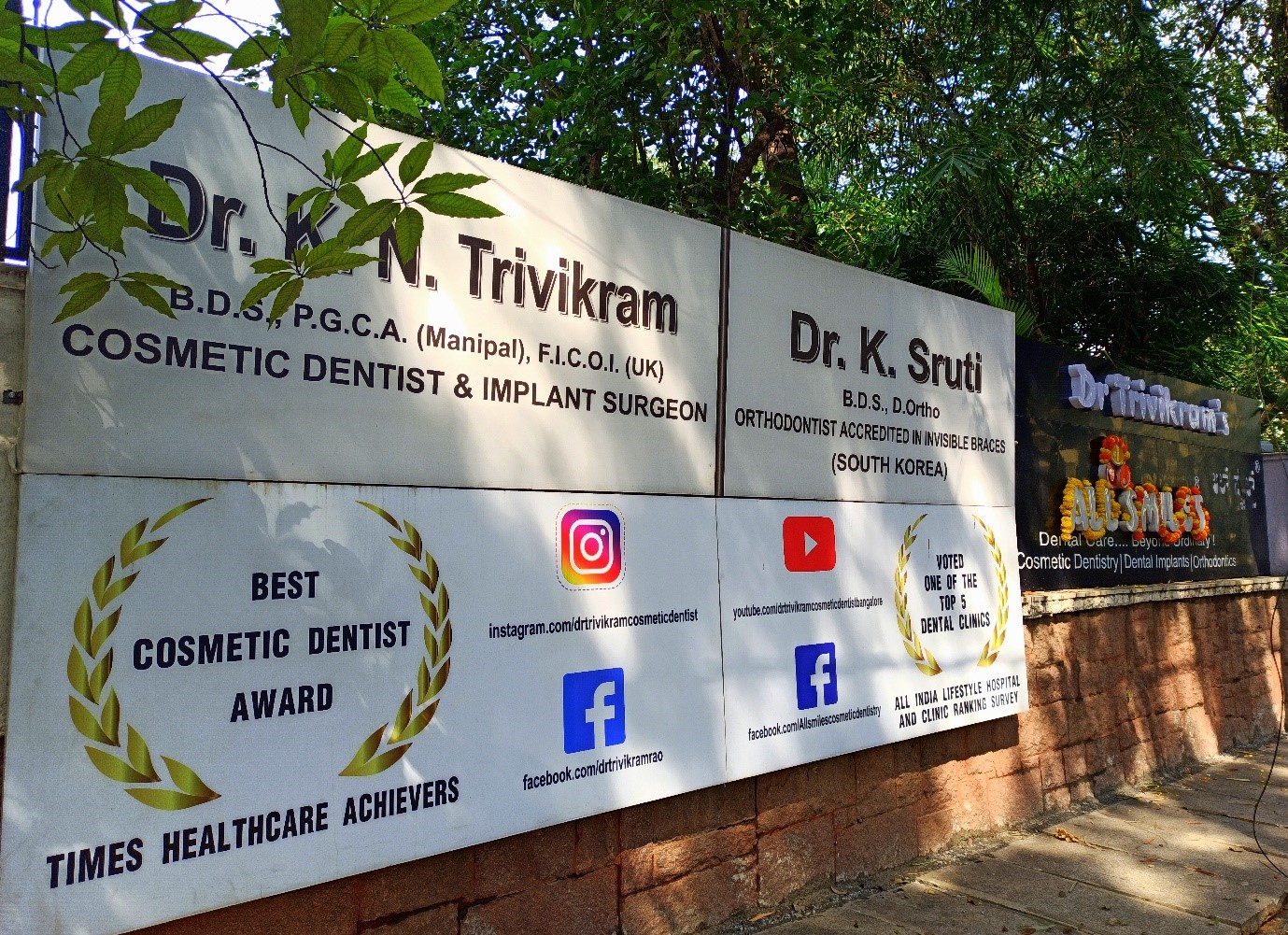 As we resume our services post pandemic, it is important for you to understand the new protocols considering the long battle our humanity has to face against Covid infection.There are going to be changes in our working hours, the way we work, communication tools during pre and post treatment times and fee structure.
These are in strict adherence to the protocol set by DENTAL COUNCIL OF INDIA.
Remember that is the only way to ensure safety for ourselves, our staff, our community and most importantly yourself.
These are unusual circumstances. We are trying our best to help you out with your dental issues.Hence we request your cooperation.
Who DOES NOT qualify for an appointment?

Those who are have following symptoms

Fever
Dry Cough
Tiredness

Less common symptoms:

Aches and Pains
Sore throat
Diarrhoea
Conjunctivitis
Headache
Loss of taste or smell
A rash on skin, or discolouration of fingers or toes.

Serious Symptoms:

Difficulty breathing or shortness of breath
Chest pain or pressure
Loss of speech or movement
People experiencing any respiratory symptoms.

Anyone with a covid patient at home or who has been in contact with such person.

Strictly NO WALK IN appointments will be accepted.
Adherence to your scheduled time is mandatory. Any delay beyond 10 minutes your appointment stands cancelled. Entry only for the patient and maximum one accompanying person.
Please do not bring any unnecessary personal belongings such as bags or files.

What to do when you enter the clinic?

Leave your shoes outside the entrance door in the shoe stand. There will be a bottle of sanitizer at the entrance. Use it to sanitize your hands until the elbows. You will be ushered into the reception area after a temperature check. We will cancel and reschedule your appointment if we suspect Covid symptoms once you enter the reception area, don a pair of disposable foot covers which would have been kept for you.

Are you worried about sanitization during Covid pandemic? DO NOT WORRY.

We schedule only limited number of patients in a day with prior appointments to maintain quality and safety.

We are equipped with the best quality protective gear.

All our treatment rooms are completely separate to prevent cross contamination.

After each patient the whole unit and every surface is completely sanitized and a U.V air sterilizer is used. This process take about 15 minutes. Request you cooperation in case you are made to wait to complete this procedure.

All the windows in treatment rooms are kept open to allow fresh air to be circulated

During the treatment, you will not be permitted to use the chair side spittoon in the operatory.

Modes of payment and advance payment.

After your consultation you will be given the treatment plan and cost estimate.We accept UPI, NET BANKING, CARD and CASH payments .We request you to make the payments for treatment procedures in advance.
Consent form –Please find the consent for here for your reference. You or (parent in case of minor) needs to sign a physical copy that we provide you at the entrance of the clinic when you reach.

Welcome to Dr Trivikram's All Smiles. :) Thank you!
Dr Trivikram's All Smiles Dental, 64, Shankar mutt road Basavanagudi, Bangalore-560004
Dr. Trivikram & Dr. Sruti
COVID-19 Pandemic Emergency Dental Treatment Consent Form
I, _______________________________________, knowingly and willingly consent to have dental treatment completed during the COVID-19 pandemic.
I understand the COVID-19 virus has a long incubation period during which carriers of the virus may not show symptoms and still be highly contagious. It is impossible to determine who has it and who does not given the current limits in virus testing.
I have come to this dental clinic of my own accord for my dental treatment.
I acknowledge that my doctors are following all the protocols prescribed by the government authorities.
I confirm that I am not presenting any of the following symptoms of COVOID-19 listed below:

Fever
Shortness of Breath
Loss of Sense of Taste or Smell
Dry Cough
Runny Nose
Sore Throat

If I am an asymptomatic carrier or an undiagnosed patient with Covid19, I understand that I may endanger the doctors and staff and it is my responsibility to take appropriate precautions and follow the protocols prescribed by them.

I understand that the government guidelines recommend social distancing of at least 6 feet for everyone and this is not possible with dentistry. This may significantly increase my risk of contracting the infection. I understand that even with the best precautions taken by my Dentists there is a possibility of me contracting the infection during my visit here. I assure that I will not hold the doctors or clinic staff accountable if such an infection occurs to me or my accompanying persons.
I verify that I have not travelled outside India in the past 14 days to countries that have been affected by COVID-19.
I verify that I have not travelled domestically within India by commercial airline, bus, or train within the past 14 day.
I verify that I haven't tested positive for Covid19 nor I have been in contact with a known positive patient within the past 28 days.
I hereby authorise and give consent to the doctors to proceed with the required dental treatments. I also take full responsibility to make all the payments for the procedures required.
Patient signature/ Guardian in case of minor
Patient name:
Mobile number:
Date and time: