A smile is a powerful way for you to communicate.
A Beautiful, Confident, New Smile Awaits You!
Meet the expert cosmetic dentist-
No Braces

No Surgery

3-4 Visits

5-7 Days

19 Years of Experience

6500 Cases Done

No Age

Limit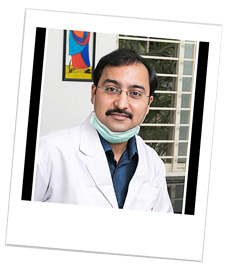 Dr. K.N.Trivikram Rao ( Dr Vikram ).
Cosmetic dentist and Implantologist. B.D.S, P.G.C.A.(Manipal) Fellow, I .C.O.I ( U. K)
SPECIAL INTERESTS :
Cosmetic dentistry, Dental Implants, Root Canals and Crowns and Bridges.
Why Dr Trivikram for your smile makeover?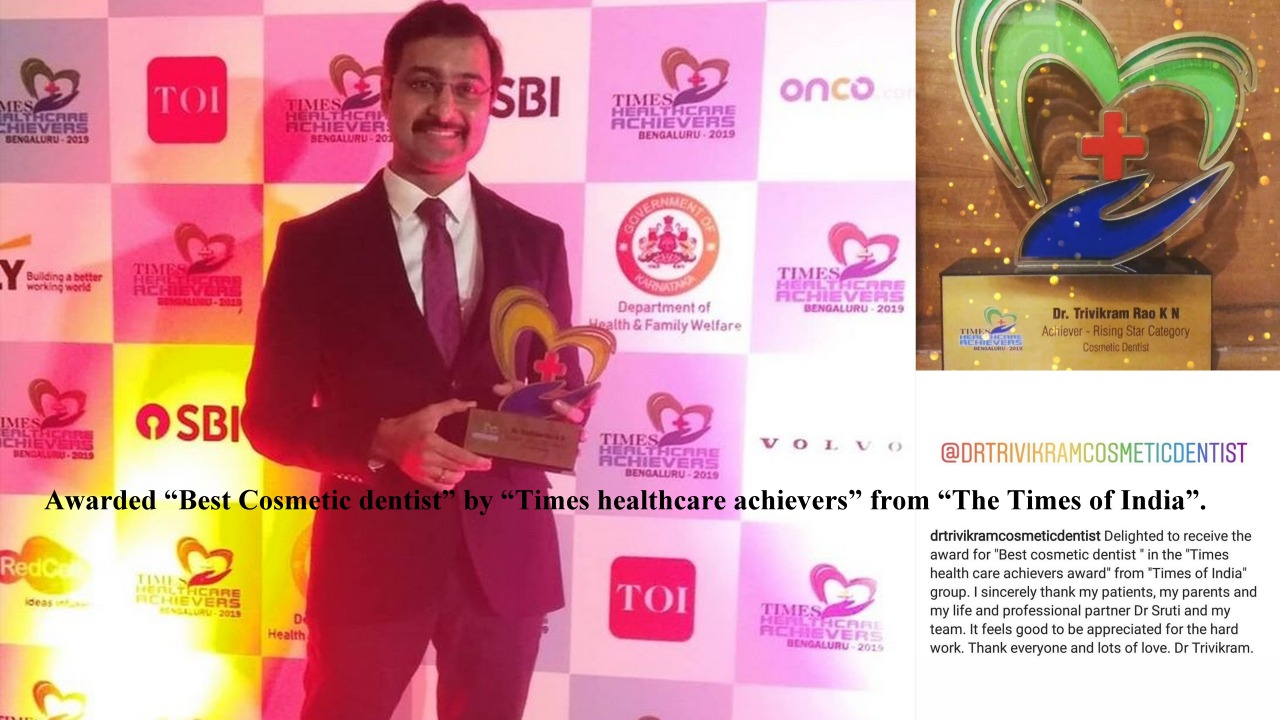 Awarded "Best Cosmetic dentist" by "Times healthcare achievers" from "The Times Of India"
Experience of over 19 years and 6500 cases of Smile Makeovers.
Innate Artistic Flair along with sound knowledge about science of Cosmetic Dentistry.
Able support of In-house state of the art Lab.
Supported by Master Technicians with international training.
Absolute adherence to International Protocol for Sterilization.
Exclusive use of high quality materials from Europe and U.S.A. No cheaper substitutes.
Centre dedicated exclusively for high end cosmetic dental work, Dental Implants and orthodontics.
Centre equipped with most modern equipment to deliver consistently high quality results.
Effective anaesthetic techniques to make the procedure virtually PAINLESS.
Are you happy with your smile? Is it time to improve your smile esteem ?
Think of the last time you posed for a snap/selfi on your smart phone? Did you flash your pearly whites or did you hide your teeth? If you are the one who has been hiding your smile then read on to know how you can achieve a STUNNING SMILE MAKEOVER in less than a week.
Smile makeovers by Expert Cosmetic dentist Dr Trivikram Rao (Dr Vikram) have enhanced thousands of smiles in the last 19 years. Skilfully blending science and art, Dr Trivikram can "sculpt" a more attractive smile for you in just 3-4 visits in 5-7 days. Gone are the days when you had to settle for chipped, stained and crooked teeth or bad ugly filling and crowns. A revolution in newer technology and materials ensure that cosmetically enhanced teeth now look extremely natural and last longer than they did in the past. Today, many people benefit from modern Cosmetic Dentistry. A wide range of techniques are available that can enhance almost any smile
SEE More Before & After PHOTOGRAPHS for Proof
Contact Us
Email : allsmilesdc@hotmail.com
Who needs cosmetic dental treatment?
Any adult having
teeth with gap
crooked teeth
oversized teeth
small teeth
dark teeth
protruding teeth
fractured teeth
teeth with fluorosis stains
cosmetic-dentistry
teeth with old stained fillings
teeth with old crowns with metal margins is a candidate for smile makeover.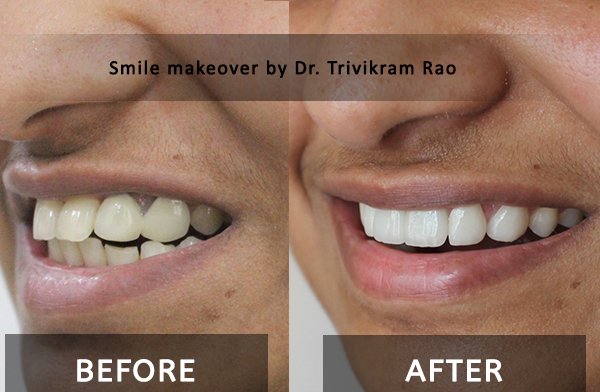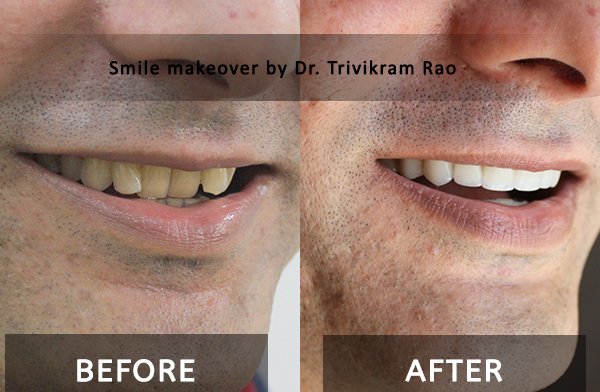 A new smile will help make a great impression – both personally and professionally.
Cosmetic dentistry, Smile designing, Smile makeover, Smile Sculpting, Aesthetic Dentistry.
All these terms indicate the same treatment options. In simple words it means sculpting a better smile by changing the alignment, shape, colour and texture of your existing teeth with the help of ceramic/porcelain crowns/veneers. This treatment is not a surgery and your teeth can be straightened without braces/orthodontic treatment and can be finished in just 5-7 days.

COSMETIC PROBLEMS -Any of the following problems is the reason for you to see us.
Bad Alignment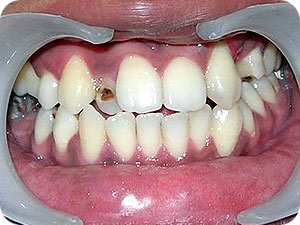 Bad Alignment with gaps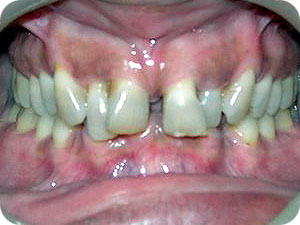 Bad Crowns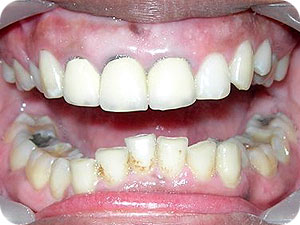 Bad Decay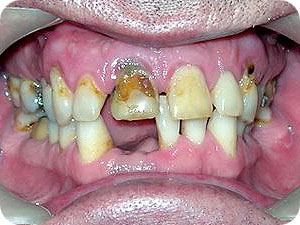 Crowded and Proclined Teeth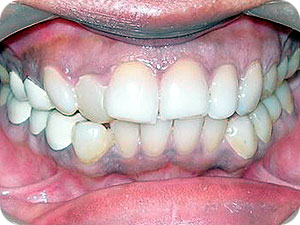 Crowded Teeth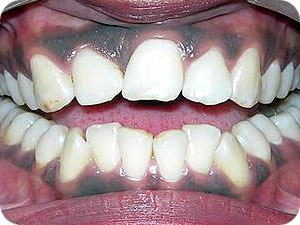 Discolored Teeth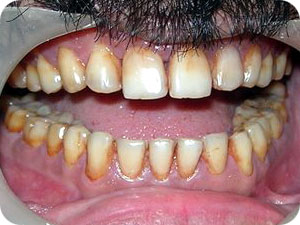 Discoloured Teeth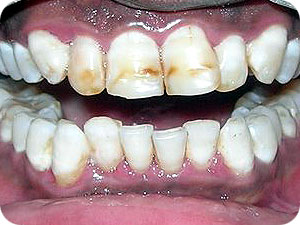 Extreme Decay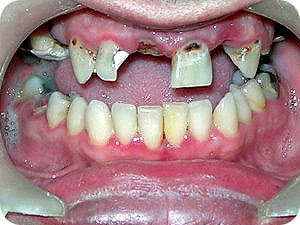 Extreme Gaps
Gaps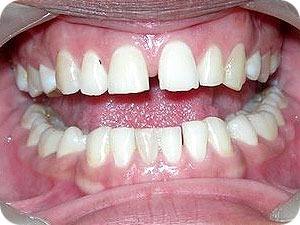 Midline Gap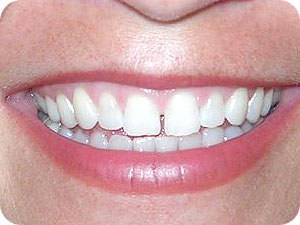 Overlapping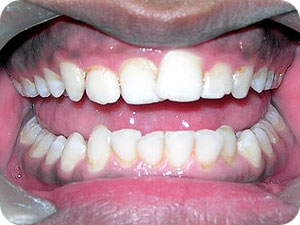 Proclined Teeth With Deepbite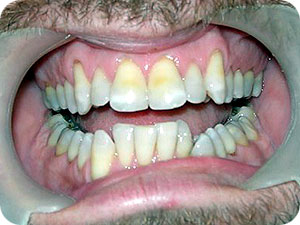 Stained Teeth With Gaps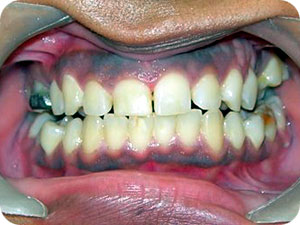 If your answer to any of the following questions is "Yes" then you need to get a cosmetic evaluation done by Dr Vikram
Do you lack confidence when smiling?
Do you wish you had a smile as pretty as the models?
Do you wish your teeth were whiter?
Do you have any stained or discolored teeth or filling?
Are any of your teeth crowded, overlapping or crooked?
Are any of your teeth missing or do you have gaps between any of your teeth?
Do any of your teeth have uneven shapes due to chips, fractures or rough edges?
Do your teeth seem out of proportion because they are uneven in length?
Are you dissatisfied with the way your gums look?
Are your gums red, swollen, receding or bleeding?
What is the time duration of this treatment?
The treatment generally takes only 5-7 days in 3-4 visits.
Who is a cosmetic dentist .What is the experience of the cosmetic dentist Dr Trivikram? What sets him apart from the regular dentists?
A cosmetic dentist is a specialist with advanced training in the field of cosmetic dentistry which deals with any appearance related issues of teeth and smile. Dr Vikram who has undergone extensive training in cosmetic dentistry in U.K, has successfully completed more than 6500 cases in the past 19 years.
He is a pioneer in Cosmetic Dentistry in Bangalore and one of the first doctors to introduce metal free crowns/veneers for the front teeth in 2001-2002.Starting with a few hundred cases in early 2000s he has so far completed about 6500 cases of highly successful smile makeovers for different types of problems.
His keen eye for finer aspects of dental aesthetics and methodical approach to treatment are appreciated by the patients seeking better smiles. The experience he brings is invaluable.
How we design a perfect smile for you in less than 1 week !
The procedure (Step wise):
Assessing your present smile and teeth alignment and designing a custom made smile for you.
Treatment planning with Digital Smile Design and selection of material for crown/veneer.
Preparation of teeth and fabrication of temporary crowns.
Impression making, bite registration and shade selection.
Lab work to fabricate final crowns/veneers.
Fixing of final crowns/veneers.
Bite adjustments and recall visit
Do my new crowns and veneers look natural?
Yes, they look absolutely natural and translucent unlike crowns with metal. With the arrival of METAL FREE PORCELAIN and CAD-CAM design you can get stunning results in a short time.
How are we different form regular clinics ?
INDIVIDUALIZED SOLUTIONS - At Dr Trivikram"s ALLSMILES we understand that the needs and expectations of each patient for cosmetic problems are different. So, we design the smile solutions keeping those things in mind. This happens at the initial treatment planning stage to give you the best smile. With a Digital Smile Design Certification, Dr Trivikram has become one of the very few elite cosmetic dentists in the country to offer advanced cosmetic dentistry treatments with the latest technologies on par with international standards. The DSD standards used at his clinic helps in more customised smile designing treatments that ensure high customer satisfaction.
PERSONALIZED ATTENTION IN THE LAB WORK - Each cosmetic case that we undertake, i.e. From the initial treatment planning stage to final finish, we work with the best labs and master technicians .We have the best equipped labs and expert master technicians at our personal disposal. Every crown or veneer we deliver is personally crafted by the chief doctor and master technician by working together. So in effect you get a smile personally designed by the best in the field.
| | | |
| --- | --- | --- |
| | COSMETIC DENTISTRY BY DR. TRIVIKRAM RAO | COSMETIC DENTISTRY BY REGULAR DENTISTS |
| The work | Expert handling of clinical work with state of the art materials. Attention to detail and advanced planning of each case. | Ordinary work due to lack of experience and expertise. |
| The laboratory | A premium laboratory which delivers true masterpiece for every patient. Your crowns will be made from metal-free porcelain. | Mass-produced work. Lacking detail. Low quality crowns are often made of porcelain veneered over nickel alloy, which may cause allergies. |
| The end result | Superior quality and natural looking crowns that appear great feel good and last long. | Substandard results with crowns that look opaque and black margins at the gums. |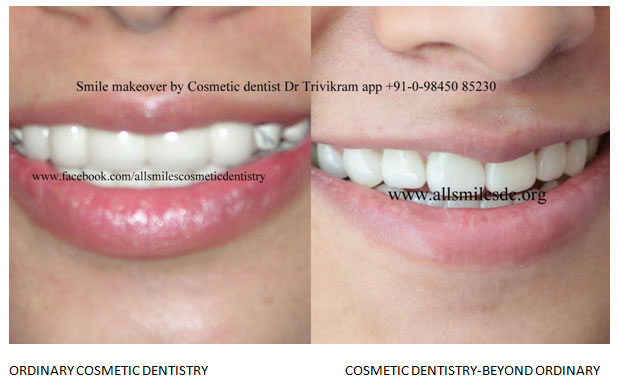 Smile designing principles.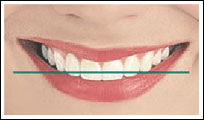 Horizontal Symmetry:
Draw an imaginary horizontal line through the centre of both your pupils and another horizontal line between the tips of your canine teeth. Ideally, these two horizontal lines should be parallel. Often, one side slopes down.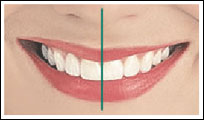 Vertical Symmetry:
Draw an imaginary vertical line through the centre of your face. This mid-line should run through the centre of your eyes, nose and chin. Ideally, the mid-line should also run through your two central incisors thus making the central incisors a mirror image of each other.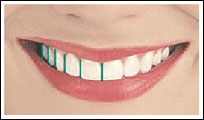 Smile Width:
Ideally, a wide smile will show your first molar to first molar tooth. Although if you have a narrow smile you may only see the front six teeth from canine to canine.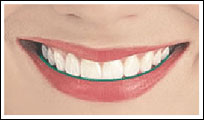 Smile Line:
Draw an imaginary curve along the bottom of your upper teeth and compare it to an imaginary curve of your lower lip. Ideally, your smile should be curved in order to look younger.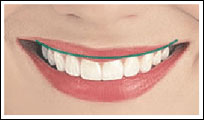 Gum Line:
Draw an imacosmetic-dentistryginary curve along the top of your upper teeth. Ideally, only the pink triangular parts of g um between the teeth show. However, some people show a lot more gum or the gum that shows is uneven giving an irregular gum line.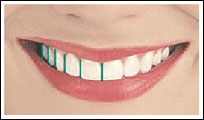 The Golden Proportion:
This special proportion was discovered by the Greeks and is found in many areas of nature. Ideally, the widths of each of the front teeth compared to the next follows this special proportion.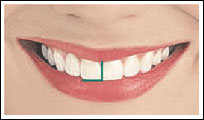 Tooth Proportion:
Ideally the width of a tooth should be approximately 80% of the length. However for patients those wear/grind their teeth, this ration is closer to 1:1 as the teeth have shortened and become squarer. This is a way to measure exactly how much tooth has been lost over the years and is often used to rebuild edges of teeth to their ideal proportions and perfect smile.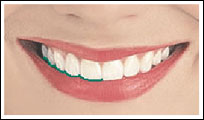 Embrasure Space:
These are the little triangular like spaces between the tips of the front teeth. Without embrasure spaces, the teeth would look like flat piano keys with no character to them. Ideally, the embrasure spaces should be smallest between the two central incisors and gradually become larger as you examine teeth further into the mouth. An ideal feminine smile tends to have more definite round embrasures.
Authored By Dr.K.N Trivikram Rao - Dentist, Bangalore
1