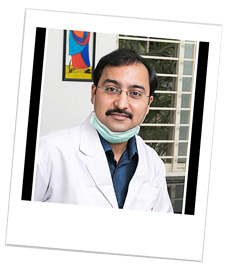 Dr.K.N.Trivikram Rao (Dr Vikram).
Cosmetic dentist and Implantologist.
B.D.S, P.G.C.A (MANIPAL). FELLOW, I.C.O.I (U.K).

FELLOW- INTERNATIONAL CONGRESS OF ORAL IMPLANTOLOGISTS. (I.C.O.I).U.S.A.
MEMBER- EUROPEAN ASSOCIATION FOR OSSEOINTEGRATION. (E.AO).PARIS,
MEMBER- INDIAN SOCIETY OF ORAL IMPLANTOLOGISTS. (I.S.O.I)
MEMBER- IMPLANT PROSTHODONTIC SOCIETY.
SPECIAL INTERESTS:
Cosmetic dentistry, Dental Implants,Root Canals and Crowns and Bridges.
AWARDED-"BEST COSMETIC DENTIST" by "TIMES HEALTH ACHIEVERS" from THE TIMES OF INDIA.
Dr Trivikram Rao, often described by his patients as DENTAL ARTIST because of his ability to turn any smile into a beautiful one. He has crafted over 6500 smiles in the past 19 years. His clientele ranges from common people to fashion models.
He completed graduation in the year 2000 from Bangalore University and followed it with a fellowship from the United Kingdom. Then he completed POST GRADUATION IN COSMETIC DENTISTRY (AESTHETIC DENTISTRY) from the Prestigious Institution –Manipal College of Dental Sciences. He stood as the topper of the batch during his post-graduate training in Aesthetic Dentistry in Manipal College of Dental Sciences.
Dr Trivikram comes with extensive training in advanced COSMETIC DENTISTRY with a special emphasis on SMILE DESIGNING/SMILE MAKEOVERS with Composite veneers, Porcelain Veneers and Crowns.
He has pursued the prestigious FELLOWSHIP from the ICOI (International Congress of Oral Implantologists), in November 2006. ICOI is the apex body in the field of dental implants and cosmetic dentistry headquartered in the U.S.A. He is also a member of Implant Prosthodontics Society. (U.S.A).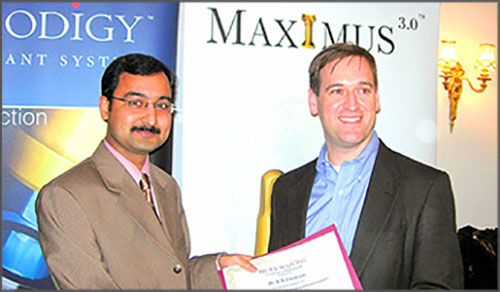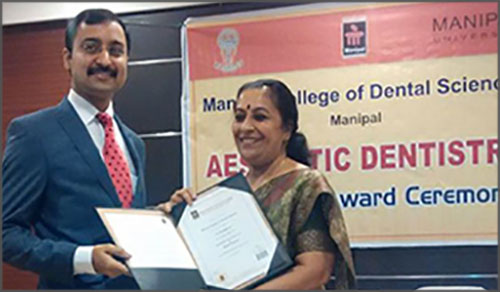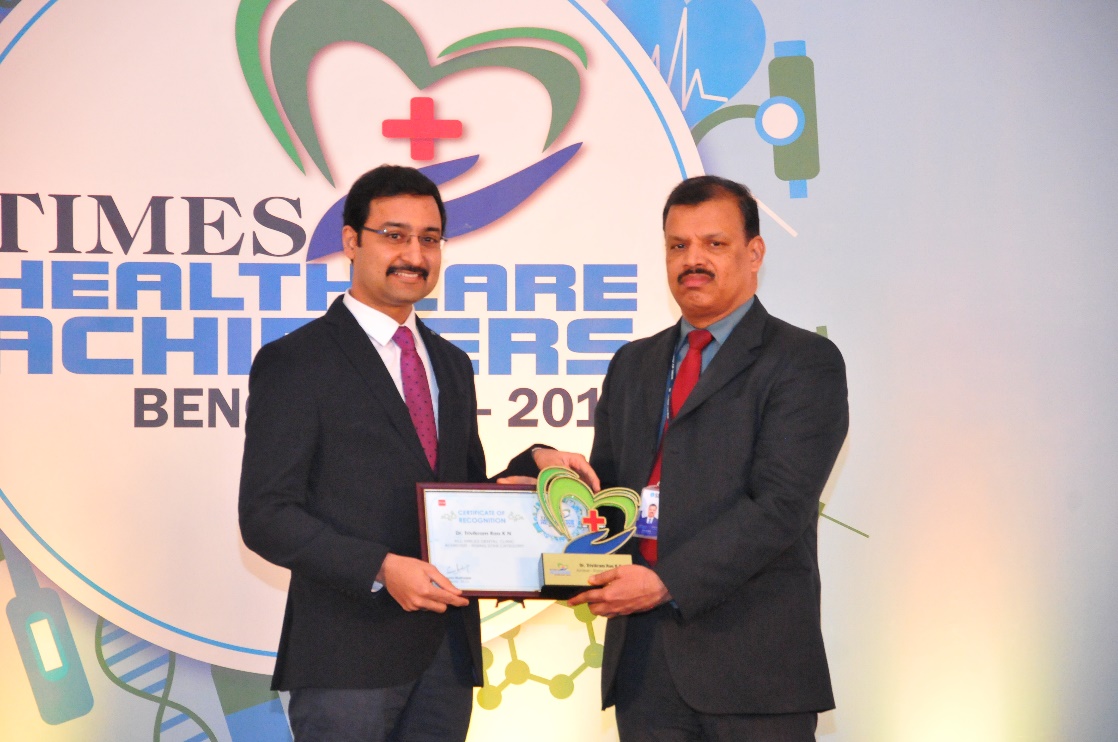 Along with this he completed his advanced CDE conducted by the Royal College of Surgeons in implant dentistry in London, England. He also comes armed with advanced training in surgical placement and prosthetic restoration of dental implants from the University of Alabama, Birmingham.
He is also an active member of the Indian Association of Osseointegration (IAO).
He is the medical director and founder of Dr TRIVIKRAM' S ALL SMILES DENTAL CLINIC, the embodiment of Dental care, quality and aesthetics offered under one roof.
Other Advanced Training in diverse specialities of dentistry includes
160 hours of didactic and clinical training course in multidisciplinary contemporary implant dentistry from Bio horizons, U.S.A
Basic and Advanced Clinical Training in Rotary and Microscopic Root Canals from Integrated Endodontic Centre.
Comprehensive clinical Training in Occlusion and full mouth rehabilitation from Smile Care.
Advanced Training in Clinical Fixed Prosthodontics from ICDE.
Languages known: English, Kannada, Hindi, Telugu.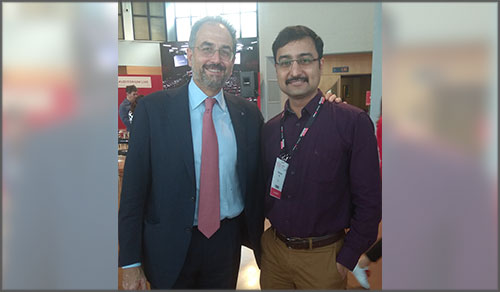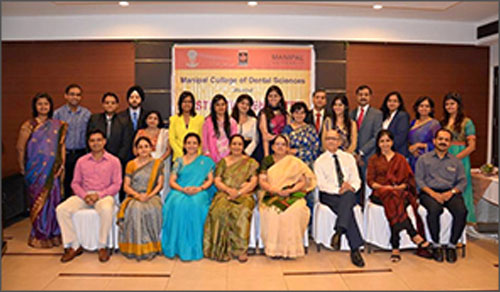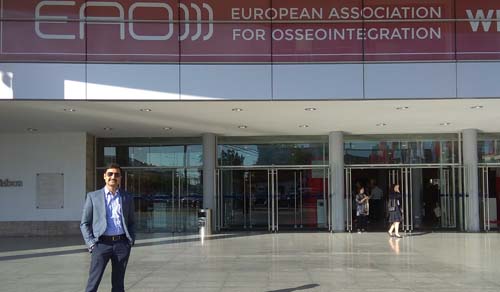 With Dr Vikram, You are assured of high standards of dental care combined with personal relationship and compassion. His keen eye for finer aspects of dental aesthetics and methodical approach to treatment are appreciated by the patients seeking better smiles.
Patients from around the world have experienced the best that Dr. Vikram and his staff have to offer at Dr Trivikram's All smiles dental clinic.
---
Anjan Lahiri|President IT Services| Mind Tree Ltd.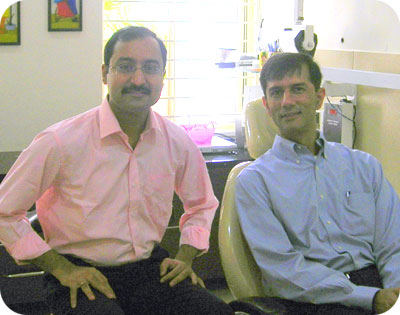 I researched and found Dr Trivikram's All smiles dental clinic over the internet. I was impressed with the focus of the dental clinic. My initial consultation with Dr Trivikram(Dr Vikram) only reinforced my initial positive impressions. I have had a lot of treatments done here. A sinus lift, tissue graft, bone graft ,three implants, one root canal treatment and 3 crowns.
The tremendous partnership Dr Trivkram has with the extremely competent team give a huge comfort to a patient like me.I wish Dr Trivikram all the very best and thank them for giving me a full set of healthy teeth for the first time in my life since I was 12 years old.
---
Abhay Kulkarni, Vice President, Infosys, Bangalore.
I have been consulting Dr. Trivikram at Dr Trivikram's All smiles for more than 5 years now and have had a series of treatments with great results. It is an extremely tedious job to find the right dental surgeon in Bangalore, who provides the right advise, right treatment and makes you feel comfortable. I am glad I went to Dr. Trivikram more than 5 years back and I knew I had made the right choice on the first day itself.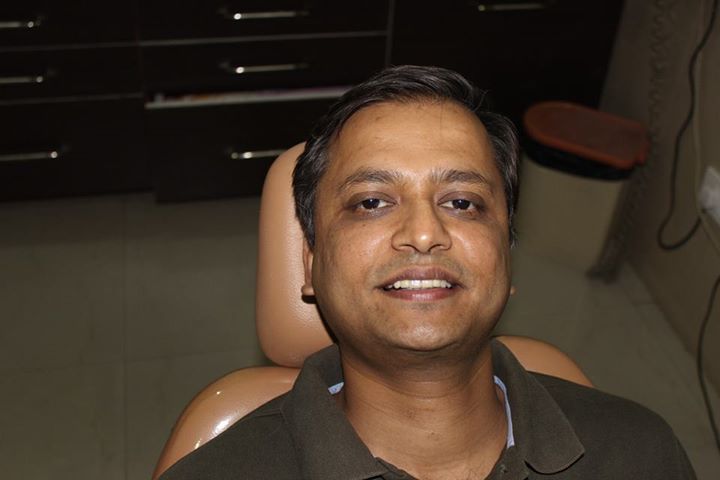 The ambience and the way I was treated by the entire staff made me feel extremely comfortable and put me at ease. Dr. Trivikram is very knowledgeable, uses the best and latest technology, does great diagnosis and explains with high confidence and patience all the details of the problem and most importantly describes all possible options and the cost estimate. I have always found his advice on the treatment extremely beneficial and completely effective.The most recent treatment I had was the most complex one and involved cosmetic dentistry. Dr. Trivikram did a great job, explaining the entire process involved, pros and cons of each option and helped me select the right option. His expertise in cosmetic dentistry is phenomenal and he has transformed my problem teeth to great looking ones. It is amazing how he performed the complex treatment, fixing the problem areas one by one and then giving the finishing touch, and while doing all this, making me feel at complete ease and very comfortable. Thanks a lot Dr. Trivikram and your staff for always handling my problems with care and great professionalism & expertise and for the great results.
---

Livika Chopi, Nursing Student and fashion enthusiast.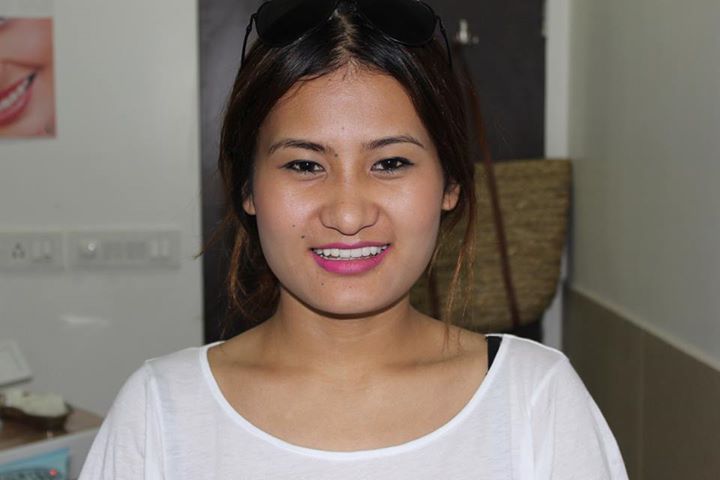 I visited about 10 dental clinics in Bangalore but this was the clinic i felt was the best.Thanks to Doctor and his team for being so patient with me and clearing out all my doubts and questions.I love my smile now, in less than 10 days, i got a perfect smile and the best treatment ever. Highly recommend everyone.
---
---

ANNIE PADIELEAU, DEPUTY CONSULE GENERALE, CONSULATE GENERAL OF FRANCE IN BANGALORE. (CONSULE GENERALE ADJOINTE, ALLIANCE FRANCAISE).
Since August 2010 I have been treated by Dr Vikarm at Dr Trivikram's All smiles dental clinic in Bangalore.Now I have got a fantastic smile and I am feeling much better! It was a very professional job. I will be keeping Dr vikrams highly skilled job for the rest of my life.
It is a pleasure for me to smile now, Thanks a lot.