Dr. K. N. Trivikram Rao ( Dr Vikram ).
B.D.S , Fellow, I . C . O . I ( U. K ).P.G.C.A(MANIPAL).
Cosmetic dentist and Implantologist.
SPECIAL INTERESTS :
Cosmetic dentistry, Dental Implants, Root Canals and Crowns and Bridges.

Cosmetic Dentistry – SCULPTING A NEW SMILE.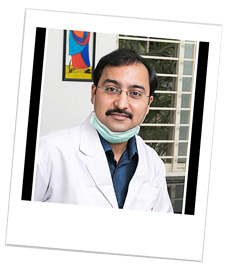 The Cosmetic Consultation with Dr Vikram
On your first consultation with Dr Vikram you will be screened for the following things
Comprehensive oral examination of your teeth for your gum health.
Detailed smile assessment.
Complete diagnostic impressions with study casts.
Complete bite analysis.
Intra-oral photos of your teeth showing your teeth, any rotations, any asymmetry on your teeth and the gums, any grinding, and the comparison ratios of the size of your teeth.
Before starting the treatment we need to understand your expectations. You will be shown examples of previous work that we have carried out similar to yours. We keep the before and after photographs of the cases we have done which can be useful to judge the quality of our work.
How do you judge a cosmetic dentist?
When you visit any cosmetic dentist for a consultation the following questions will help you judge him/her.
What is the experience of the cosmetic dentist in particular to smile makeovers?
How long the Doctor has been performing this specific cosmetic procedure?
How many cases has the doctor performed in the past year?
Can I see the before and after photographs of the cases done by the doctor?
A competent cosmetic dentist should be able to showcase his work to prospective patients.
May I talk to patients of yours who have undergone smile makeovers here?
Is the cosmetic dentist supported by an experienced master ceramist and does he do custom work on the colour and shape of this specific procedure?
How many visits and how much time are required to complete this procedure?
What are the pros and cons for this procedure?
Are my gums in good health before I start this cosmetic procedure?
How do I maintain my smile makeover results?
It is also important to analyse the setup of practice as state of the art equipment is needed to deliver high quality results.
Very cheap cost is also an indication of what kind of results to expect as there are a lot of cheaper substitutes available in the market today. Any shortcuts can lead to defective treatment and unpleasant results.
When you visit for a consultation, also inquire about the methods and technology of your cosmetic dentist. Make sure your cosmetic dentist has all the records before presenting you with a treatment plan.
The above is necessary for the patient to judge the cosmetic dentist. You should not pick your cosmetic dentist by price only. The old cliché applies: you get what you pay for. If you get the smile you want, then the positive outcome is priceless. Your cosmetic dentist should share with you, in detail, the results of the diagnosis and treatment plan. If you have any questions, your cosmetic dentist should be able to answer them satisfactorily, in order to provide the best possible treatment.
Authored By Dr.K.N Trivikram Rao - Best Dentist, Bangalore
2