Dr K Sruti
Orthodontist and Dentofacial Orthopedist. Specialist in Lingual Braces.
B. D. S, D. Ortho. Accreditation in Lingual Braces (South Korea)
The co-founder of Dr TRIVIKRAM'S ALL SMILES comes with an experience of over 18 years. She graduated from the Bangalore University in the year 2000, went on to complete her Post Graduation In Orthodontics and Dent facial Orthopaedics from Rajiv Gandhi University Of health Sciences as the best outgoing student of the batch with Distinction. She also has successfully completed advanced training in the super-specialty of Lingual Braces(Invisible Braces) under the guidance of legendary professor Dr Hee Moon Kyung at Kyungpook National University Daegu, South Korea.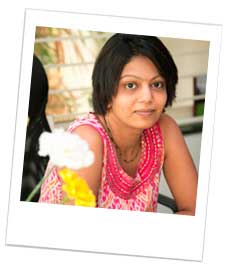 Apart from orthodontics, she has refined her skills in Root Canals by completing basic and advanced education in the science and skill of root canal treatment from Integrated Endodontic centre.
She has also undergone explicit schooling in
Diverse aspects of Cosmetic Dentistry and Adhesive Dentistry,
Occlusion and full mouth rehabilitation,
Clinical fixed prosthodontics.
Her long experience of treating diverse dental problems is an asset to Dr Trivikram's All smiles centre.
---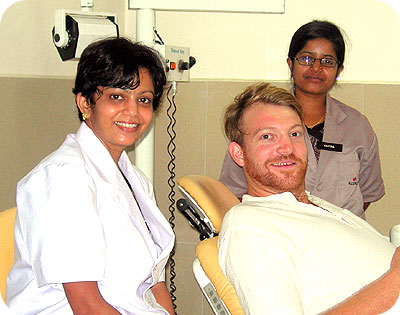 Having taken someone else's recommendation to see Dr Vikram
and his colleagues in the first place, I can only wholeheartedly continue to pass on those exact sentiments. Dr Vikram and his wife Dr Sruti and staff are polite, reassuring and entirely trust worthy. Dr Vikrams observations were accurate with previous dentists. Only with Dr Vikram I decide to have them dealt with. Thank you very much to all the team.
NEIL TUCKWELL, ENGLAND.
---
The first thing that anyone, who go to Dr Trivikram's All Smiles dental clinic, notice is the ambience is unlike most Dental clinics. This one soothes you rather than make you feel anxious or apprehensive.
But for me, all that sitting doesn't help if the staff isn't friendly and keeps my anxiety at bay. Dr Trivikram's All smiles excels at this. The staff is very friendly while the Doctors, Sruti and Vikram make sure you are not in some chair with a stranger peeking into your mouth, probing with cold iron tools.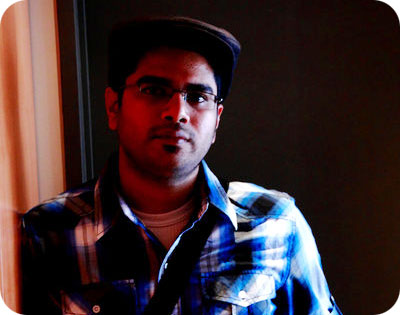 I have always had a great experience with Dr Trivikram's All Smiles. Especially with the small problems that I go there for, and the unusually larger ones too. The root canal, surprisingly was the most painless I have had. Not that have had lots of root canals elsewhere but they sure did make it seem really easy. A walk in the Zen Garden after the session helps, if you're the hyperventilating type of a person.
For me, Dr Trivikram's All Smiles clinic has been my Family dentists for a long time and I would recommend them highly for anyone. Especially to those who cringe at the thought of Dental rebellion!
– Vijay Rajan | Technology lead, MindTree Ltd .