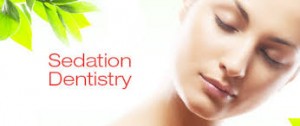 Dentistry does not have to be painful or dreadful. It's important to know that a visit to the dentist can be a positive experience, even when treatment is necessary. Many people are afraid of the dentist. They avoid dental care at all costs, even when they are in pain or discomfort.
But it no longer has to be that way. Modern dentistry offers safe, effective, and comfortable treatments to anxious and fearful patients. Conscious sedation/sedation dentistry/relaxation dentistry is a method used to deal with anxious patients and patients who fear dental procedures. It is used to sedate children, infants, and those individuals that are overly fearful of dental procedures. Sedation Dentistry is not scary and can be pain free dentistry.
Unlike General Anesthesia where a patient is completely unconscious, asleep, and unable to respond, patients under Conscious Sedation are able to respond to commands and breathe on their own. But because of the medications administered, the patient's anxiety and fear will vanish.
There are 3 primary ways that Sedation is administered in the Dental Office:
1. IV Sedation or Deep Conscious Sedation is where medications are administered directly into the blood stream .The advantage of this method is that the anesthesia achieved is profound and immediate .There is also complete amnesia of the procedure performed.
2. Orally administered sedation-is achieved by administering a pill. The anesthesia achieved with this method varies from person to person.
3. Inhalation Conscious Sedation, Nitrous Oxide/Oxygen Sedation-is achieved by inhaling nitrous oxide. The patient will often fall asleep and experience some degree of amnesia.
The advantages of sedation
It is a boon to anxious patients with fear of dental procedures.
It is easy to perform time consuming dental procedures on the sedated patient.
It is easy to perform surgical procedures like implants, sinus surgeries and wisdom teeth removal.
It is safer than general anesthesia.
It is less expensive than general anesthesia.
It does not require hospitalization.
Side Eeffects Of Sedation
Side effects can include things like nausea, vomiting, or the patient may have an intense headache after awaking from the sedated state.
Precautions to be taken for sedation
Conscious sedation may not be suitable for everyone, but when it is used with caution it can immensely benefit a patient who is fearful of dental procedures.
The patient should undergo a complete physical examination by general physician before being taken up for sedation. Any known medical condition should be informed to the physician and the dentist.
The sedation at the dental office should be administered only by anesthetist. The whole procedure should be monitored by the anesthetist.
The patient has to be fully informed about the process and side effects of the procedure before taking a decision.
Dr Trivikram's All smiles dental- center for cosmetic dentistry and dental implants in Bangalore , India is one of the very few places where conscious sedation is offered for anxious patients.
We welcome all the patients who postpone their dental treatments for the fear of dentists.
Visit www.allsmilesdc.org for details. Call +91-80-26673439 or 98450 85230
or email @ allsmilesdc@hotmail.com for appointments.
Authored By Dr.K.N Trivikram Rao - Dentist, Bangalore
1