Dr. K. N. Trivikram Rao ( Dr Vikram ).
B.D.S , Fellow, I . C . O . I ( U. K ).P.G.C.A(MANIPAL).
Cosmetic dentist and Implantologist.
SPECIAL INTERESTS :
Cosmetic dentistry, Dental Implants, Root Canals and Crowns and Bridges.

CosmeticDentistry – FAQ's.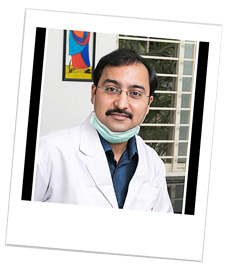 1. Am I a candidate for cosmetic dentistry?
If you have any of the following problems with your teeth and smile you are a candidate- Teeth with gaps, crooked teeth, overlapping teeth, over sized or small teeth, dark teeth, protruding teeth , fractured teeth any old ugly crowns and bad composite fillings.
2. Why would someone need or be interested in cosmetic dentistry?
Cosmetic dentistry provides more than just a beautiful smile and a healthy mouth. Cosmetic dentistry has also been shown to improve a person's overall health and emotional well-being. An improved smile can boost a person's self-image, making them more confident in their daily lives
3. Is this treatment a surgery, or a complicated procedure, do I require hospitalization?
No this procedure is not a surgery. In skilled hands it is a simple procedure. You do not require hospitalization.
4. Do I have to wear braces/clips/orthodontic treatment for 1-2 years?
Cosmetic dental treatment is done without braces/clips/orthodontic treatment. It is done by changing the alignment, shape, color and texture of your existing teeth with the help of ceramic/porcelain crowns/veneers. It takes only 5-7 days and 2-3 visits.
5. Are the results permanent? How long do they last?
The results are permanent. The new crowns can last a lifetime with good oral hygiene.
6 .What is a Porcelain (Ceramic) crown or veneer? What are the types of veneers/Crowns?
Crown or Veneer is a restoration fabricated to cover the natural tooth to hide any appearance related issues. They are also used following root canal treatment to reinforce the strength of the tooth structure. The basic Porcelain crowns are porcelain fused to metal frame work called PFM. They do not allow the light to pass through and appear very OPAQUE. They always show a dark line next to the gum line that looks ugly. Moreover the metal irritates the gum tissue causing allergic reaction. Dr Trivikram Provides totally METAL-FREE FULL CERAMIC CROWNS/VENEERS. They look absolutely similar to a natural tooth and appear TRANSLUCENT allowing the light to pass through.
7. Do my new crowns and veneers look natural?
Yes, they look absolutely natural and translucent unlike crowns with metal. With the arrival of METAL FREE PORCELAIN and CAD-CAM design you can get stunning results in a short time.
8. Is the cosmetic dental treatment procedure painful?
No. The cosmetic dental treatment procedure in not painful as we numb the teeth during the procedure.
9. Who does the cosmetic dental work and how many cases of SMILE DESIGNING were done by the cosmetic dentist at Dr Trivikram's All smiles Dental Clinic?
Dr Trivikram (Dr Vikram) who has undergone extensive training in cosmetic dentistry in U.K has successfully completed more than 6500 cosmetic dental treatment cases in the past 19 years. His keen eye for finer aspects of dental aesthetics and methodical approach to cosmetic dental treatment are appreciated by the patients seeking better smiles.
10. How does one select a cosmetic dentist?
Cosmetic dental work totally depends on the expertise of the dentist. This is THE factor in the cosmetic dentistry. Cosmetic Dentistry is more of an art than an exact science. The dentist should have enough expertise, passion; great understanding of the materials used and attention to detail in planning your smile .That requires extensive training which is not available in dental school. Only a dentist who has spent considerable time and amount in learning from the right sources and places can deliver a great result.
11. Why Dr Trivikram is considered as one of the best in the field of Cosmetic Dentistry?
Dr Trivikram is an expert in the field of cosmetic and Implant dentistry. He comes with an Innate Artistic Flair along with sound knowledge about science of Cosmetic Dentistry and is Often described by his patients as "dental artist "for his ability turn any smile into a stunning one
He comes armed with extensive training in Cosmetic Dentistry from United Kingdom.
Experience of over 19 years and 6500 cases of Smile Makeovers
Equipped with an In-house state of the art Lab.
Supported by Master Technicians with international training.
Absolute adherence to International Protocol for Sterilization.
Use of only high quality materials from Europe and U.S.A. No cheaper substitutes.
Centre dedicated exclusively for high end cosmetic dental work.
Centre equipped with most modern equipment to deliver consistently high quality results.
Effective anaesthetic techniques to make the procedure virtually PAINLESS
THE ADVANTAGES OF COSMETIC DENTISTRY BY Dr Trivikram
INDIVIDUALIZED SOLUTIONS –Here every smile is personally crafted by Dr Trivikram .He understands that the needs and expectations of each patient for cosmetic problems are different. So, he designs the smile solutions keeping those things in mind. This happens at the initial treatment planning stage to give you the best smile. We are very different from chain of dental clinics in this aspect as the entire cosmetic work is carried out personally by the chief doctor. Also we limit the number of cosmetic cases to just two per day .In effect we do only TWO SMILE MAKEOVERS per day.This enables us to concentrate on each case very effectively.
PERSONALIZED ATTENTION IN THE LAB WORK -Each cosmetic case that we undertake, i.e. from the initial treatment planning stage to final finish, we work with the best labs and master technicians. We have the best equipped labs and expert master technicians at our personal disposal. Every crown or veneer we deliver is personally crafted by the chief and master technician by working together. So in effect you get a smile personally designed by the best in the field.
| | | |
| --- | --- | --- |
| | COSMETIC DENTISTRY BY Dr Vikram. | COSMETIC DENTISTRY BY REGULAR DENTISTS |
| The work | Expert handling of clinical work with state of the art materials. Attention to detail and advanced planning of each case. | Ordinary work due to lack of experience and expertise. |
| The laboratory | A premium laboratory which delivers true masterpiece for every patient. Your crowns will be made from metal-free porcelain. | Mass-produced work. Lacking detail. Low quality crowns are often made of porcelain veneered over nickel alloy, which may cause allergies. |
| The end | Superior quality | Substandard results |
| result | natural looking crowns that appear great feel good and last long. | crowns that look opaque and black margins at the gums. |
12. Do I have to take leave from work during the treatment?
Not necessary; you need to be present in the clinic only for 1 hour. You can attend to work the same day.
13. How do I take care of my dental crowns/veneers?
Treat your crowned tooth like a normal tooth.
Brush and floss thoroughly.
People from all walks of life can greatly benefit from the improved confidence a better smile can give. With proper care, Veneers and Crowns will enhance your dental health and beauty for a long time to come.
14. After this procedure do I need to visit the dental office often for maintenance?
No.
15. Will crowns/ veneers eventually stain?
Porcelain veneers are non-porous and will not stain or discolour.
16. Is cosmetic dental work expensive?
The cost of cosmetic dentistry depends on many factors like how many teeth need it and the choice of restoration. Cosmetic dental work is not as expensive as you think. Like any cosmetic service, costs will vary with the quality of the service offered. A skilled cosmetic dentist can explain the costs of each step and the best procedure for you.
17. How do I maintain my crowns/ Veneers?
You just need to take care of them like how you take care of your teeth. Good brushing and flossing is required. They do not need any special maintenance. With good personal and professional care, cosmetic restorations can last a lifetime.
18. What is the maintenance required for my crowns/ Veneers?
You should be able to stay on regular dental cleaning visits. Cosmetic restorations do not stain and they are unlikely to have any buildup over time. With good personal and professional care, cosmetic restorations can last a lifetime.
19. Is there a difference in quality among various types of veneers and crowns?
Yes. There are many different materials used in veneers and crowns. Cosmetic dentistry is the ultimate blend of art and science. If you are looking for good quality results it is important to look for experience, proven results, and a focused approach to individual needs. There are a lot of cheaper materials available which result in ugly smiles. Dr Trivikram creates smile makeovers with the help of world's best materials to give you superior results and a great smile.
20. Why are straight teeth important?
A good smile is very important aspect of a good personality. A nice smile is not only beautiful, it also promotes good health:
Teeth that are straight and evenly spaced are easier to keep clean, leading to better oral health. Better oral health can reduce the incidence of heart disease, gastrointestinal disease, and other health conditions.
Teeth that are properly aligned chew more efficiently, and that aids in proper digestion
Teeth that are straight and properly aligned create a more perfect bite, and that avoids excessive stress, headaches, and strain on your supporting bone and tissue.
The social benefits of a beautiful smile are also important:
Confidence – in job interviews, public speaking and personal relationships.
Clearer speech – teeth play an important role in your ability to speak.
Authored By Dr.K.N Trivikram Rao - Best Dentist, Bangalore
1