Date :2019-11-07
A smile is a simple thing, which can do wonders. Noting can beat a beautiful smile, and It always stays the best embellishment for oneself. Smile makeovers can help you to improve the quality of your smile, and they also enhance a person's entire facial appearance and outline.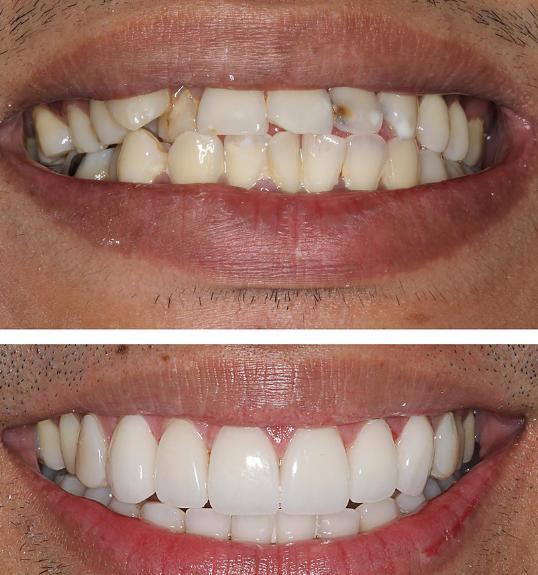 A smile makeover can help you to upgrade the appearance of the smile through diverse cosmetic dentistry procedures such as:
Composite Veneers
Tooth Implants
Teeth Whitening
Composite Veneers
Composite Veneers is a cosmetic dental procedure constructed to enhance the appearance of the tooth within a single visit to the doctor. They are a popular choice for crooked, chipped, misshaped and gappy teeth. Composite veneers are made from tooth-coloured acrylic resin which is bonded on to your mouth. It is cost-effective and only less tooth enamel needs to be removed compared to porcelain veneers and can also give a natural look.

Composite Bonding Procedure:
The dentist will use a shade guide to identify a resin colour which matches your tooth colour closely.
Roughen the surface of the tooth by abrading them.
The tooth is then coated with a conditioning liquid that helps to cohere the bonding material.
After preparing the teeth, the dentist will apply the resin.
The resin is molded until it gets the perfect shape.
The material is then hardened with laser or ultraviolet light.
Then the dentist will trim and shape it.
After Care:
Brush twice a day and floss regularly.
Do not bite your nails.
Avoid eating candies and hard foods.
Limit drinking coffee, tea, and using tobacco as it may cause stain on the veneers.
Visit the clinic regularly for dental cleaning.
A healthy smile can boost your confidence. If you have discoloration, a chipped tooth, or a gap and you're looking for cost-effective treatment, Consult a dental specialist. Your dentist can determine whether this procedure is right for you, and if not, recommend other options to improve the appearance of your teeth.
Meet Dr Trivikram, the expert cosmetic dentist and implant surgeon for your implant treatment. Dr Trivikram's ALL SMILES DENTAL-COSMETIC DENTISTRY, 64, Shankar mutt Road, Basavanagudi, BANGALORE-560004. Ph-9845085230

Reviewd By : Dr K N Trivikram Rao
Mail us @ allsmilesdc123@gmail.com
Book your appointment here: allsmilesdc.org/book-appointment